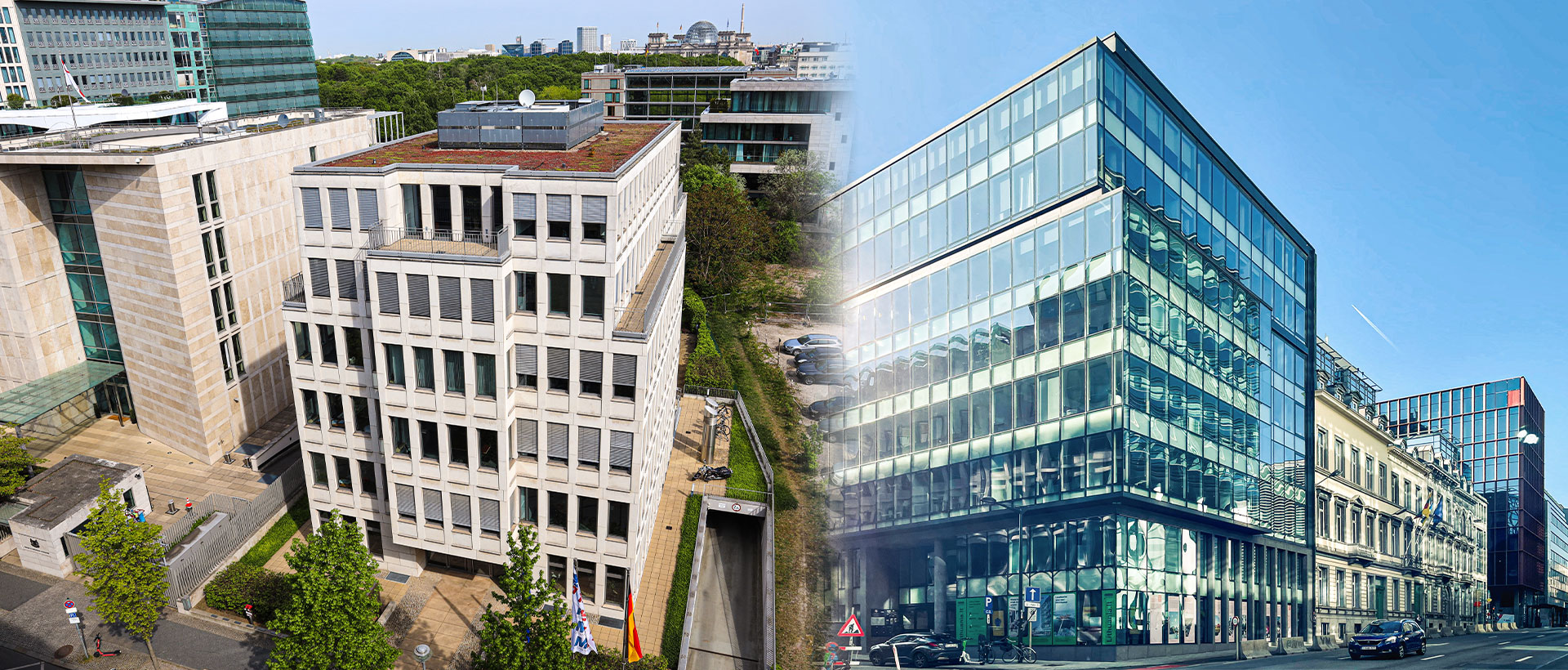 Gesamtmetall is the Federation of German Employers' Associations in the Metal and Electrical Engineering Industries (M+E). Founded in 1890, the federation represents the common interests of Germany's largest industrial sector.
Gesamtmetall aims to improve industrial relations and working conditions, and thus the performance of the German M+E industries. This is crucial for creating and securing competitive jobs in Germany. Gesamtmetall speaks for 22 member associations representing more than 7,100 companies and 2.4 million employees.
The federation is headed by its President Dr Stefan Wolf (CEO/Chairman of the Management Board of ElringKlinger AG). Director General is Oliver Zander. Gesamtmetall employs a staff of over 50 at its Headquarters in Berlin and its Liaison Office in Brussels.
Our industry – Facts and Figures
The M+E industries are Germany's key industrial sector. It generates a turnover of more than 1,3 trillion euros a year in more than 25,600 companies with a total of around 3.9 million employees.
The companies generate most of their turnover by manufacturing capital goods. Two thirds of products and services are exported. The M+E industries are largely made up of small and medium-sized enterprises. Over two thirds of the companies employ fewer than 100 people; only two percent have a workforce of over 1000 employees. The largest M+E sectors are mechanical engineering, the automotive industry, metal-working, electrical engineering and the precision mechanics/optics/clocks sector.
Industrial labour relations
Gesamtmetall analyses the economic climate, devises strategies for collective bargaining, coordinates negotiations with trade unions, provides support in the event of industrial action, and helps companies implement collective-bargaining agreements. However, the conceptual work is not limited to bargaining rounds. Gesamtmetall is also continuously working on ways to improve the collective-bargaining system itself.
Gesamtmetall voices the M+E industry's positions on social policy at national and European level. The focus is on sustainably financed social security systems and keeping companies' administration costs at a decent level. Gesamtmetall supplies its member associations with know-how on matters such as pension schemes for employees, health policy and social security. Gesamtmetall is also actively involved in shaping social policy. Examples include the founding of the MetallRente pension fund and a collective agreement that enables employees to use part of their salary for their pension plans.
Gesamtmetall is involved in designing and revising job profiles for vocational training. It funds a number of projects to improve training and STEM capacities of the next generations, for example in mathematics and science. Parents, teachers, young people and the public are informed in many ways about jobs, career prospects and the necessary requirements for vocational training in M+E companies and the whole industry.
As an example, our 10 M+E-InfoTrucks offer 80m² of teaching space, weight 32 tons and are 18 meters long. They are in action at schools all year round to get young people exited about STEM careers.
Gesamtmetall formulates and publishes the positions shared by the M+E industries on all important issues. Our messages focus on putting across entrepreneurial positions and explaining the industry's views. In this context Gesamtmetall seeks the dialog with the media based on mutual trust.
European and international affairs – The Brussels Liaison Office
Gesamtmetall represents the interests of the M+E industries in all matters of collective bargaining and social policy at the European and international level. It also provides its member associations with comprehensive information in terms of labour standards abroad and the posting of workers.
Gesamtmetall and its members associations are deeply convinced that the European integration as well as the completion of the European single market is not only highly beneficial for the citizens of Europe but also a simple necessity in an exceedingly competitive world. The legislative competence on social issues remains at the national level. Nonetheless, the number of European legislative initiatives in the field of social policy has increased considerably in recent years. EU-legislation in this field is affecting the core business of Gesamtmetall and its member associations to an ever greater extent. In many cases, these initiatives represent a serious threat to the competitiveness of the whole industry and the freedom of association (autonomy of collective bargaining) protected by article 9 of the German Basic Law.
Via its Brussels office, Gesamtmetall represents the interests of the German M+E industries vis-à-vis the European institutions. To this end, Gesamtmetall collaborates closely with its European umbrella organisation Ceemet and its affiliated associations in 20 countries.